Certified Free From™
MenuTrinfo's certification program is a valuable resource for food service providers and manufacturers who want to offer allergen-free products. The program provides third-party verification and validation of allergen-free claims on consumer-packaged goods and in kitchens.
Accredited by the ANSI National Accreditation Board (ANAB), MenuTrinfo's certification program is designed to meet the highest standards of accuracy and reliability. The program involves rigorous testing of products and facilities to ensure that they are free from common allergens such as nuts, soy, dairy, gluten, and more.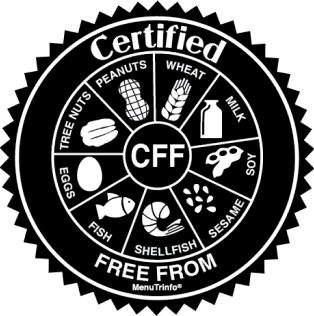 By achieving MenuTrinfo's certification, businesses can demonstrate their commitment to providing safe and trustworthy products and services to their customers. This not only builds trust and loyalty among customers but also helps businesses stay ahead of the competition and comply with regulatory requirements.
MenuTrinfo's certification program is customizable to meet the unique needs of each business, whether it's a small bakery or a large food manufacturer. The company's team of experts works closely with each client to develop a comprehensive plan that meets their specific goals and requirements.
The CFF Certified Free from service MenuTrinfo provides is the leading resource for businesses that want to provide allergen-free products and promote transparency and safety in the industry.